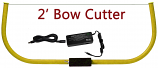 #051R - REFURBISHED - 2 Foot Bow Cutter
Refurbished- On Sale! $60 Off Individual New Tool Pricing! - These tools can accomplish everything new tools can and have the same cutting speed, but since they have been used we have to let them go for less - lucky you! Comes with full factory warranty. May have been used for a one-day class, or tradeshow, or returned by a customer who needed a different tool. Cosmetic defects may be present, but nothing that that impedes the funtionality of the tools

It's The Little-Bro Of The Big Compound Bow. Built for professional modelers and building contractors, our 2' Bow is fast and agile and built to last.
$89.95
$149.95 save 40%
More details