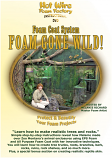 #009 Foam Gone Wild! Foam Coat System
Protect and Beautify Your Foam Projects. Learn how to make amazingly realistic trees and rocks. Simple step-by-step instructions reveal how Melanie made over Zoo Montana's animal enclosures using EPS Foam and All Purpose Foam Coat with her innovative techniques. You will learn how to create tree trunks, roots, branches, bark, rocks, ruins, stone walls, rock shelves, and so much more. Plus, a special bonus section on creating realistic reptile skin.
$9.95
$14.95 save 33%
More details
#P012 - Free Crab Pattern
A pattern to make your own crab out of foam using our tools. Though the cart says set your own price, no price is necessary. The pattern is free! Free shipping via US Mail or download it as a PDF here!
Set your own price!
The price for this product is not set. You can decide how much you want to pay.
More details