Hot Wire Foam Factory
216 East Laurel Ave, Lompoc, California, 93436, United States
sales@hwff.com 1-866-735-9255 1-805-735-9255 1-805-735-9285
---
#BK01 - Styrofoam Crafting Book
---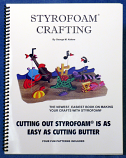 Details
Weight

0.45

lbs
SKU
BK01
Our Price:

$12.99
Description
---
Finally, a how-to book on cutting and sculpting Styrofoam! George Kehew, one of our long time artists, produced a delightfully written and illustrated 11"" x 14"" 48 page foam cutting basics book. He covers all the basics:
What is Styrofoam?
Setting Up Shop
Hot Knives
Hot Scroll Table Cutting
Foam Engraving
Freehand Routing
Using a Sled Guide
Sculpting Tool Tips and Tricks
Finishing Techniques PLUS
Four Complete Patterns:Stallion with the Golden Mane Flower Box Train Tunnel AND how to make a Foam Custom Design Paint Roller
George Kehew is a retired draftsman, artist, and designer.