Hot Wire Foam Factory
216 East Laurel Ave, Lompoc, California, 93436, United States
sales@hwff.com 1-866-735-9255 1-805-735-9255 1-805-735-9285
---
Pro 8-Inch Hot Knife Kit with Variable Heat Pro Power Station #K42PV
---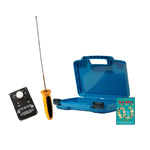 Details
Weight

5.00

lbs
SKU
K42PV
Market Price:

$184.80

Our Price:

$174.95

(Save

5

%)
Description
---
Pro 8-Inch Hot Knife Kit
For Deep Cuts
Are you a professional foam artist needing to make deep plunge cuts and cut thick foam? This specialized hot knife cuts 8 inches deep. It cuts faster than the 4-inch model, but slower than the 3-Inch or 6Inch Hot Knife. The thin round steel blade cuts Styrofoam, white beaded EPS foam cleanly in any direction..
Need a different cut or lower price?
We have 5 hot knives to choose from: 3-Inch, 4-Inch, Pro 6-Inch, Industrial 6-Inch, Industrial Hot Knife Kit (with 6 different blades)
Includes:
8-Inch Hot Knife
Power Station of your choice
85-minute Hot Wire Foam Factory Instructional DVD
Large sturdy carrying case
Printed Instructions
Choose Your Power Station:
Features:
Convenient thumb-switch on the handle
Durable yet lightweight comfort-gripped handle
6 feet of power cord
Starts cutting within seconds
Does not char the foam
Cuts continuously (unlike cheap knock-offs that overheat in minutes)
Round blade changes direction easily
Made with care in the USA
Used For:
Stage props and theatrical sets
Plunging deep holes for wires and control rods
Theme rooms
Sign making
3D art
Foam armatures
and so much more . . .
Tech Specs:
.065-inch diameter blade
Blades are replaceable at our factory
Pro Power Stations can also be used with the Freehand Router, 3-Inch Hot Knife, 4-Inch Knife, 6-Inch Knife, Sculpting Tool, and Engraving Tool, and our four Scroll and 3D Tables.