Hot Wire Foam Factory
216 East Laurel Ave, Lompoc, California, 93436, United States
sales@hwff.com 1-866-735-9255 1-805-735-9255 1-805-735-9285
---
XL Hot Wire CNC Machine - CNC 054
---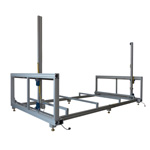 Details
SKU
CNC-054
Cutting Area
102" Wire Length x 60" Horizontal Travel x 58" Vertical Travel (205 cu ft)
Machine footprint
126" x 75" x 76"
Axes
4-axis: horizontal, vertical and angular cuts (up to 30deg vertical, 30deg horizontal)
Accuracy
± .001 inch
Max Speed
400 in/min
Included Hardware
4-axis Machine, Control Box, Power Supply, 100' Extra Wire, Tools for install and maintenance
Included Software
Mach 3, Vector Linker
Required
6-peice assembly required. You supply monitor and whatever 4-axis CAM software you need.
Market Price:

$14,800.00

Our Price:

$11,800.00

(Save

20

%)
Description
---
Industrial CNC 4-Axis Hot Wire Cutting Machine
Make tapered airplane wings, architectural shapes, letters, and much more
USA made and supported
Only 6 parts to assemble
Financing available, click here for more information.
DETAILS:
Fast and easy assembly of just 6 parts.
Includes Mach 3 and Vector Linker software. Easily run it in 2-axis mode out of the box.
Cutting Area: 102-inch Wire Length x 60-inch Horizontal Travel x 58-inch Vertical Travel.
Quiet and extremely accurate motion control.
Extreme cutting precision with accuracy to .001".
High-torque motors with rapid speed up to 200" per minute. Cutting speed is dependent on material and desired precision.
Unique, low-maintenance design with minimal moving parts. Just keep it clean.
Unlimited growth potential for advanced users. Hardware and software capabilities for complex prototyping.
INCLUDES:
99% Assembled Machine With Tools for Installation
Assembly and Operating Instructions
Motion Control Box
PC with Pre-Installed Software
Keyboard
Mouse
Power Supply
100' Extra Wire
YOU NEED:
Monitor
4-Axis CAM Software (e.g. DevFoam)
SHIPPING:
Call us for time and cost for crating and shipping. Shipping is NOT calculated on check out.