Hot Wire Foam Factory
216 East Laurel Ave, Lompoc, California, 93436, United States
sales@hwff.com 1-866-735-9255 1-805-735-9255 1-805-735-9285
---
#048 - Industrial 0-120V Variable Power
---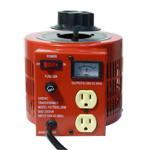 Details
Weight

24.00

lbs
SKU
48
Our Price:

$174.95
Description
---
Variable high voltage high amperage industrial power supply. Use with our Industrial 32" Router, or with your own heavy duty hot wire equipment.
0-120V

and

16Amps

powers thicker semi-rigid hot wires and hot wires over 20 feet long.
Control the temperature with easy to set voltage control.
Easy to read built in voltmeter, replaceable fuse, two high wattage output plugs, replaceable brushes.
Caution, turning up the power too high will fry your blade and can easily melt the cutting blade, cause severe burns, fire, and ignite volatile substances. You will be required to read and sign a safety waiver when purchasing this power supply - see below.