Glue
---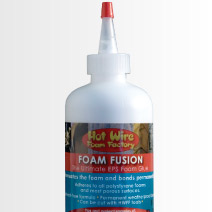 Specially formulated glues to use with your EPS foam projects. Our glues are custom made and designed to be cut with hot knife tools. Many other glues that are advertised "safe" for foam are NOT safe--they will eventually eat through the foam and ruin the project.
For any questions, check out our FAQ page!
Need help? Call our friendly, knowledgeable Sales Representatives at 866-735-9255 Monday – Friday, 9am – 4pm PST.