Pro Kits
---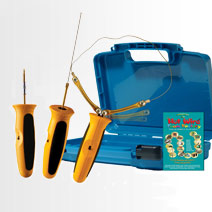 Our professional Styrofoam and EPS foam cutting tools are designed for serious artists and modelers looking to create foam sculptures, signs, displays, theatrical sets, models and more. Choose your kit from our most popular foam cutting tools: the Hot Knife, Pro Hot Knife, Freehand Router, Scroll Tables and more! These professional foam cutting kits also include the adjustable temperature Professional Power Station for increased precision and control. Our new Multi-Heat Pro Power Stations can now can be used Worldwide!
To see the tools in action, check out our Video Tutorial page. For any questions, check out our FAQ page!
Need help? Call our friendly, knowledgeable Sales Representatives at 866-735-9255 Monday – Friday, 9am – 4pm PST. We'll help you pick the right tool for the job.
Pro Kits