#025S-32 - StainFast
World's Fastest, Easiest and Safest Stain System
Mix with water based pigments (not inclueded). Gorgeous results when applied over CreateCoat. Also works well over Exterior Foam Coat and most concrete surfaces. Natural stain finish • Safe • No Acid • No VOCs • WSWYG Colors • Immersible
$19.95
More details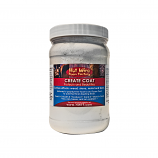 #027 - Create Coat (3lbs)
New, revolutionary, end-all, do-all, foam finish coat. This rock-hard cement-like coating protects and beautifies your foam projects.
Use directly on foam, or as a finish coating over All Purpose or Exterior Foam Coat. Compatible with our Boost and Grit. Perfect base for creating gorgeous natural tints with acid stains or our StainFast water based stain system.
Use indoors or out. Fire, rain, freeze, and sun resistant.


$14.95
More details