Hot Wire Foam Factory
216 East Laurel Ave, Lompoc, California, 93436, United States
sales@hwff.com 1-866-735-9255 1-805-735-9255 1-805-735-9285
---
#035I - Industrial 6-Inch Hot Knife
---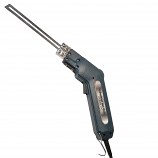 Details
Weight

2.00

lbs
SKU
035I
Our Price:

$199.95
Description
---
Don't blame us, you asked for it:
This tool is for doing fast and serious damage to your big foam projects, and to you if not used properly. The perfect partner in crime for your Compound Bow Cutter. We also offer 220 Volt models for use in other countries at no extra charge.
Smoking Fast
High Wattage
Ruthlessly Rugged
Foam Charring
Flesh Burning
Wickedly Unforgiving
Made In China under our stringent specifications (All of our other tools are Made In USA)
Unlike other lower-quality models (with the same price tag) our new 6" Industrial Hot Knife can be used continuously for periods of up to 45 minutes, and much longer if turned off between cuts. It is lightweight, solid state (the power supply is right in the handle), has a replaceable 6" blade, variable heat settings, and a 10 foot power cord. Used by professionals for everything from art installations to cutting SIP and ICF construction panels.
Industrial Hot Knife Review Video:
"This is a kick-butt product - my new fav!" -
Terra